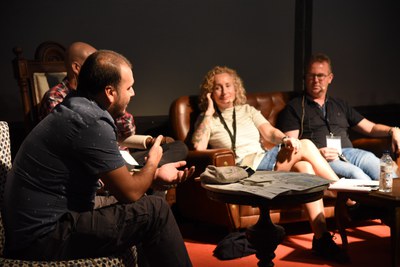 SOLD OUT
CULTURE AND EDUCATION: STRENGTHENING AFFINITIES
The Fira Mediterrània professional conference consists of different activities such as discussions, workshops, training sessions, round-table debates and presentations, promoting thought on new realities affecting the industry. The main goal of the sessions is to provide a training-related aspect for industry professionals. The presence of speakers from around the world boosts Fira's international focus.
The Conference will feature the visual intervention of the visual artist Quim Moya.
* In collaboration with: Subdirecció General de Promoció Cultural, Servei de Desenvolupament Empresarial de l'ICEC and Fira Mediterrània de Manresa.
* Conferences on streaming
* Language: catalan
The Conference on Culture and Education is complemented by 4 family shows from FiraEscoles project of Fira's Educational project.
Thursday 14 October
09.30 Cia. Teatre de l'Aurora – Per què balla en Jan Petit?
09.30 Engruna Teatre – Sopa de pedres
09.30 Markeliñe – Ganbara
09.30 Ullsclucs
15.30 Ullsclucs
18.00 Cia. Teatre de l'Aurora – Per què balla en Jan Petit?
When

thursday, 14 october de 10:30 a 17:45

Add an event to calendar